Compiling with Roslyn
Applies to:
✔

Desktop Edition

✔

Business Edition

✔

Enterprise Edition
If you prefer to compile your scripts using the new Roslyn compiler introduced with Visual Studio 2017, you can set this up under Tools > Preferences > Tabular Editor > C# SCripts and Maros. This allows you to use newer C# language features such as string interpolation. Simply specify the path to the directory that holds the compiler executable (csc.exe) and specify the language version as an option for the compiler: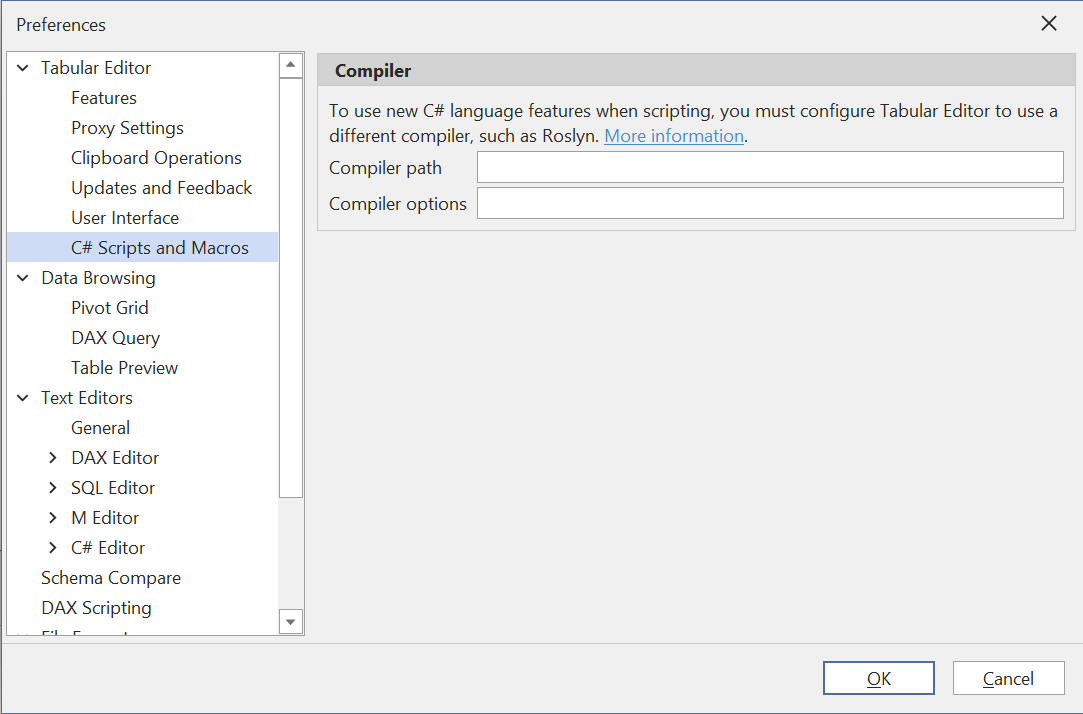 Visual Studio 2017
For a typical Visual Studio 2017 Enterprise installation, the Roslyn compiler is located here:
c:\Program Files (x86)\Microsoft Visual Studio\2017\Enterprise\MSBuild\15.0\Bin\Roslyn

This includes the C# 6.0 language features by default.
Visual Studio 2019
For a typical Visual Studio 2019 Community installation, the Roslyn compiler is located here:
c:\Program Files (x86)\Microsoft Visual Studio\2019\Community\MSBuild\Current\Bin\Roslyn

The compiler that ships with VS2019 supports C# 8.0 language features, which can be enabled by specifying the following as compiler options:
-langversion:8.0